On this page we gather all information about the framework contract that UGent concluded with Ricoh for the rental and maintenance of multifunctionals and printers. Here you will find information about the use of the printers and about ordering devices and consumables.
About this framework contract
UGent entered into a framework contract with Ricoh for the rental and maintenance of multifunctionals (mfc) and printers.
The rental and consumption costs are settled by the departement ICT on a 3-monthly base via SAP.
Rental costs include the supply, installation and commissioning of the equipment, training
for the use of the device, the rental costs, all maintenance and repair costs and the supply of toners
and waste toners.
The usage costs include a click price per print. Orders for staples are settled directly.
The duration of the contract is 72 months.
All units are standard equipped with a badge reader. Registration is done with an UGent employee card or with your personal PIN code.
In this way, print jobs are strictly personal and available on different devices.
How to print?
Manuals / procedures
Follow me principe
All Ricoh multifunctionals (except type 1 printers) use the follow me principle.
Everyone prints to a shared print queue. There are 3 queues (Ricoh on ricohpr1, ricohpr2 and ricohpr3), but it doesn't matter which queue you print to.
Based on the owner of the print job, it is processed and moved to your personal queue, not visible to the user.
Your personal queue remains available on the print servers for 48 hours (weekends do not count).
Within 48 hours you can go to a Ricoh device, log in and print your job(s). This is also the only way to consult your personal queue.
You can change your job at the chosen printer. If desired you can force color jobs to black and white.
Delegation
In exceptional cases, a particular user may also be granted rights to another user's print queue.
To do this, a delegation must be set (type of proxy).
A delegation can be requested by contacting the helpdesk. The user who wants to share his queue, must be in the cc of this mail and explicitly give his permission for this.
Printing from SAP
Multifunctionals (type 2 tem 6)

Printing from SAP with your employee card is possible if you set the RICOH printer as the standard SAP printer.
The RICOH printer is already available within SAP and does not need to be installed.
Note: The printer name (RICOH) is case-sensitive within SAP.
Setting a default printer defined in SAP can be done in SAP itself via the menu:

System > User Profile > User Data > Defaults > Output Device: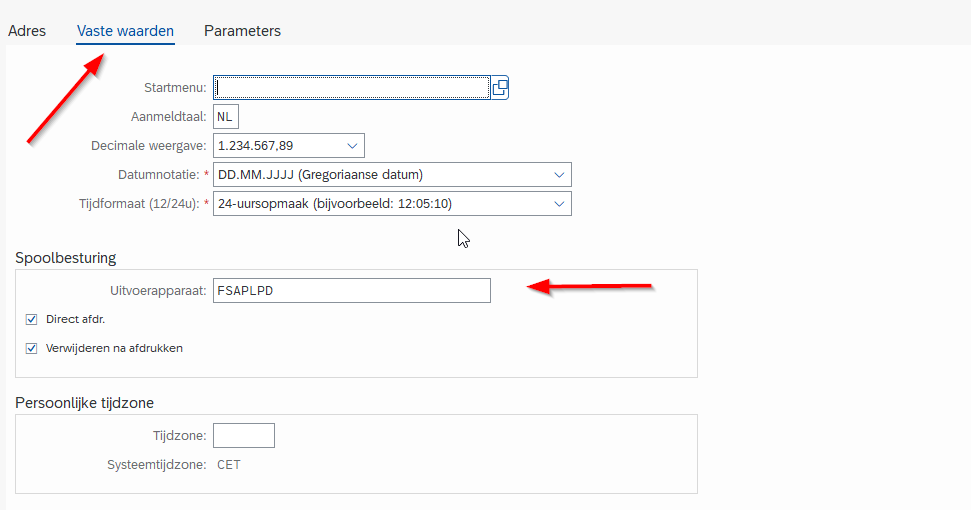 Printing via Eduroam
Printing via Eduroam (Wi-Fi) is possible, but depends of the Eduroam provider.
Eduroam installed at UGent with UGent credentials + client connected to Eduroam inside UGent => printing possible.
Eduroam installed at UGent + client connected to Eduroam outside UGent (bv Eduroam HoGent) => printing not possible.
Eduroam not installed at UGent (fi credentials of another University) => printing not possible.
If printing is not possible, you may connect via vpn. Printing via (UGent)vpn is always possible.
How to log in?
You can register immediately with your employee card. No registration is required.
You can also log in with a personal PIN code. You can consult this PIN code on the device itself (on the start screen, next to the UGent logo, option SLNXUserInfo).
You can also log in at any time with your personal UGent userid and password.
Several cards can be registered. Each card can be linked to only one user. A registration is required for this purpose.
Visitor cards
For visitors, you can request one generic scan and copy card per department. You must provide a valid UGent e-mail address in order to use this card for "scan to email".
Employees must always use their personal UGent card (employee card).
Request a visitor card by contacting the helpdesk.
Indicate:
Subject: request for a visitor's card Ricoh
Responsible/contact person for the card
UGent e-mail address for the "scan to email" function
Postal address (the internal post) for the delivery of the card
Only one card is issued per department/printer. The card is intended to remain on the premises.
In the event of theft or loss, please contact the helpdesk as soon as possible. The card will then be blocked.
How to scan?
All Ricoh devices come with a badge reader, there are 2 standard ways to scan and send:
My Email: he scanned document will be sent to your personal email address.
There is a mail limit of 10MB. If your scanned file is still larger, it will automatically be redirected to your personal scan folder.
Folder: The scanned document will be sent to your personal scan folder.

For Windows users in the UGent domain, this can be found by default under the S disk, folder scans.
All other users (Mac, Linux, ...) can access this folder from the following network address: \\aclfiler.ugent.be\scans\uwloginnaam
Scanned documents will remain available in your personal folder for 24 hours. These documents are automatically removed after 24 hours.
Devices
There are 7 different types available.
1 small black/white printer for limited use
1 small color printer for limited use (no scan or copy function)
1 smaller (tabletop) multifunctional for limited use
4 larger multifunctionals for shared use
All multifunctionals (types 2 to 6) are equipped as standard with a badge reader and corresponding follow-up me system.
Please take the following specifications into account when selecting your device:

Note:
Not all options listed in the specifications are available. This is the only valid option list .
The internal finisher will not be available for new orders.
The majority of the models has been replaced by a similar, newer model. (next generation) The old models are still listed for your information.
Service Level
The multifunctionals are available with different service levels (or SLA).
The intervention time depends on the level of service. The shorter the intervention period, the higher the monthly rent.
Defects can be reported directly to Ricoh at any time.
| | | |
| --- | --- | --- |
| Type | Technician on site | Device fully operational |
| SLA High | within 4 working hours | Next working day |
| SLA Middle | within 24 working hours | End of 2nd working day after reporting incident |
| SLA Low | within 48 working hours | End of 3rd working day after notification of incident |
Prices
All prices were listed in an Excel document

(prices per month, exclusive VAT).
All options and possible combinations can be found in a separate, secured document

(prices per month, exclusive VAT).
Please note the combinations, not all options can be combined with each other.
Extra options may be purchased afterwards (SharePoint site). Important: The price of extra options will be different from the original price + extra charges will be applicable.
How to order?
New devices
From now on, all new devices can be requested using a separate SharePoint site.
All possible applications (e.g. relocation) must be submitted through this separate site.
Discontinuing an old unit
Don't forget to dispose of your old device in such a way that the collection can be arranged and your rental contract can be closed. This does not happen automatically when ordering a new device.
You should do this after your new device is operational.
Is your existing copier not in the list? Please send an email to the helpdesk mentioning the brand, serial number and UGent hostname.
Please note: this only applies to a device from a previous framework contract for which the rental period has expired. Devices that are still under contract can only be stopped by paying a penalty clause.
Staples
Re-ordering of staples must be done directly via the Ricoh Portal (Manual

).
Staples are always invoiced directly.
Toners
A set of spare toners is supplied with each new unit.
If a toner is (almost) empty, a new one is automatically supplied by the supplier.
Immediately notify any change of contact or location of the printer through the SharePoint site.
Otherwise, a correct and timely delivery of toner can never be guaranteed.
In the event of an expected high volume (e.g. exam period), an additional toner can exceptionally be requested through the Ricoh Portal (Handleiding ).
Make sure that your device is switched on at all times. Otherwise, the machine cannot be read and the automatic replenishment may be interfered with.
Waste Bottle
Take-back of toners and waste toners
Please pack the material properly and dust-free in the plastic bag of the new one.
Empty toners and waste toners may be shipped with the internal mail service to the address below (you can use the box of the new toner or waste toner for this purpose).
Containerpark De Sterre
Krijgslaan 281
9000 Gent
How to report a defect?
Overview of types of problems and where to report. Tip: This sheet can be hung out near the unit.
Hardware failures can be reported directly to Ricoh through the:
Relocation
You can request a relocation of a device through the SharePoint site.
Relocations must be requested at least 14 days in advance.
In some cases, the relocation will be carried out by Ricoh's logistics partner. There is a cost to this.
Consumption report
Every month, the contact persons of the machine in question receive a consumption report by e-mail.
This report shows the cumulative consumption per user for the previous month. Breakdown by total number of pages, number of colour, ... .
All click prices are tracked in the system. The prices in the consumption report are correct.
This report never mentions details about the printed documents (privacy).
Important: If the contacts change, notify this in the Sharepoint site. The addressees of the report will then be adjusted as soon as possible.
Frequently asked questions
Information
Technical questions (also about toners) or administrative questions (new orders and invoices)? Contact the helpdesk.
Charged on the wrong budget place or if you want to have the budget place changed, please e-mail secretariaat.dfin@ugent.be.