Why is the login procedure changing?
The ICT Department has been modernizing the authentication process at Ghent University for some time now. In April 2020, the Executive Council approved the expansion of the use of Microsoft Azure Active Directory for Identity and Access Management at Ghent University.
The introduction of multi-factor authentication (MFA) is an important part of this. On top of that comes this major, technical, visible change in the way of registering.
What is Azure?
At Ghent University, we use Microsoft's Azure cloud services. Azure offers more flexibility and improved security in the IT services at Ghent University.
What will change for me?
Make sure that you always login with your UGent e-mail address (or an external e-mail address), and no longer with your UGent username.
My browser is asking to save my password. Do I have to do that?
No, we do not recommend that. So do not save passwords in your browser.
Can several people register on the same device?
Yes, you can also choose to log in with a different UGent account.
In the login screen, click on "
Login with another account
" and enter the UGent e-mail address and password.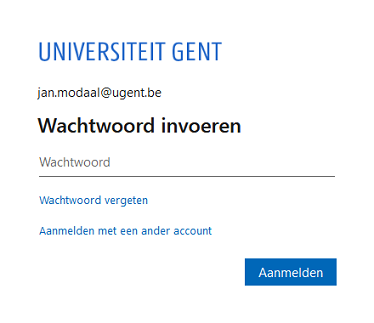 I am trying to log in with an external account but I get an error. What should I do?
Old "welcome" accounts linked to an email address containing the special character "+" cannot be converted to guest accounts.
They will see an error message and will have to use another external email address as a guest account.
To gain access, you must have access rights for another external email address (without "+") registered by the application owner.