Sign with scanned signature
Sign with scanned signature
If you want to sign a document with a scanned signature, you can use Foxit PhantomPDF or Adobe Reader.
Scanned signature via Foxit PhantomPDF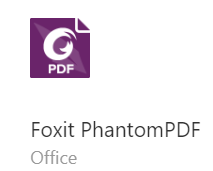 DICT recommends using Foxit PhantomPDF. This tool is available by default on Athena. You can also easily use the 'Reader' version on Windows, Linux and Mac.
Once you open the Foxit PhantomPDF (or Foxit Reader) app, you can immediately watch an instructional video on how to sign a PDF. You can also open this instructional videoa> here, but we also explain it step by step below.
Click on the 'Fill & Sign' tab and then on the green plus sign.
A window opens. Choose 'Draw' to create a signature with the mouse or choose 'Import file' in the search window if you want to enter a saved signature. If you don't share local folders in the Citrix client you must first save the image to the H drive. Then press 'Save'.
Now put the cursor where you want to place the signature and left-click.
When you are sure the signature is correct, double-click.
And did you know that once you have imported your signature, you can simply drag the signature into the next document you need to sign.
Scanned signature via Adobe Reader
Adobe Reader is the most widely used tool to place digital signatures, but it cannot be installed locally on Linux. The PCs rolled out by DICT do have Adobe Reader installed locally by default. You can also open the app via Athena if you no longer have it installed.
Importing a scanned signature into Adobe Reader is easy:
Open Adobe Reader and click on the 'pen icon'.
Then click on 'Add Signature'
A new window opens, where you can choose to upload your scanned signature (Image), draw your signature with the mouse (Draw) or simply type in your name, where your name appears in a handwritten font (Type).
Done!